I am currently a Marie Curie researcher at UvA, and at the same time have started to develop a new project. I would like to have a talk/brainstorming session in connection with my new idea.
My current Marie Curie project is titled "Trauma Studies in the Digital Age: The Impact of Social Media on Trauma Processing in Life Narratives and in Trauma Literature: the Case of Hungary". I analyse how digital means of communication change the process of dealing with a trauma, both on the personal and collective/historical level. The most decisive element of trauma is (was) considered to be silence and its unshareability which is connected, on the one hand, to the way victims are unable to talk about their trauma, and, on the other hand, to the way society is unable to respond appropriately. These reactions can be combined, under dictatorship or in an unfavourably for trauma processing political and cultural environment with ideologically influenced societal tabooing.
My research focuses on trauma narratives and interaction in social media groups set up to discuss traumatic historical events. For example in the Facebook group 'The Holocaust and My Family' one can observe how the element of silence is overcome by online communication, i. e. posting, commenting, sharing – even in the case of a historical collective trauma that was a taboo for decades in Hungary.
As a continuation of my current project I plan to set up a research group that studies possible ways of making online tools for processing collective historical traumas, a website and an app that deal with traumatic history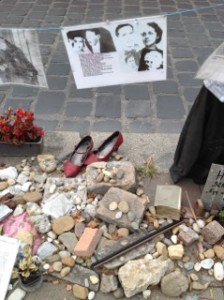 in an interactive way, using elements of creative writing. I have already discussed possibilites at London King's College Digital Humanities Department with the experts there in the framweork of a short fellowship, but I have not had the kind of 'that's it' feeling I am waiting for. I am not an IT person or a 'techie', I don't have the background knowledge to know what I could choose from.
In the THATcamp session I would like to outline my ideas and I would like to ask people to come and brainstorm together with me.